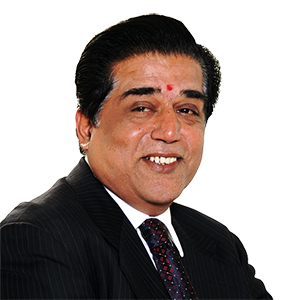 C. Valliappa
Chairman
Mr. Valliappa is the founder of the Sona Group . As a well-known industrialist in South India, his interests range from textiles to the construction industry and all the way to information technology.

He has had the privilege of being the President of the Chambers of Commerce for both the Industrial (Greater Mysore Chamber of Commerce and Industry) and Trade (Federation of Karnataka Chambers of Commerce & Industry) chapters. C. Valliappa was quintessential in putting India on the IT map when Texas Instruments decided to partner with the Sona Valliappa Group. C. Valliappa was invited to visit the U.S. as a guest of the White House to understand American business and to identify the future growth of business between India and the US – a rare honour vested on only one businessman each year.
Chocko Valliappa
Managing Director
As an integral part of the Sona Group, Chocko has played a pivotal role in the group's progress and success throughout the years. He has held key positions in administration, international business and operations, corporate affairs, strategic planning and marketing, and planning of corporate policies.

Chocko possesses an in-depth knowledge of European, Asian, and Pan-American markets and a comprehensive expertise in forging alliances and joint ventures of strategic importance. Chocko is one of the founding members of the YPO Bangalore chapter. Chocko is a dynamic leader with great business acumen.