Practicing excellence is every step towards the betterment of the organization, Chocko Valliappa has been reining the peerless role of a leader! His abilities to decide with speed and conviction, engage for impact, deliver reliably and adapt proactively have not only helped us grow as an organization, but also helped us do our bit towards the society.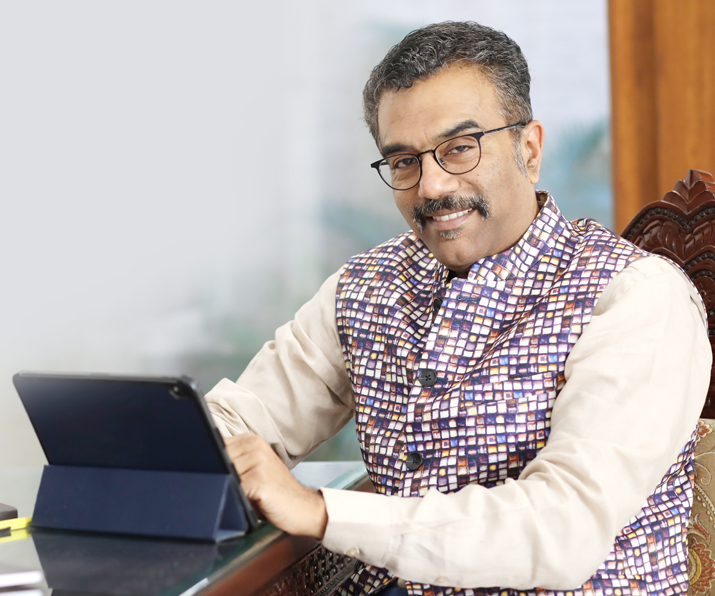 Chocko Valliappa
Managing Director – The Sona Group
Being an integral part of The Sona Group, Chocko Valliappa has played a pivotal role in the group's progress and success throughout the years. He has held key positions in administration, international business and operations, corporate affairs, strategic planning and marketing and planning of corporate policies.

With an in-depth knowledge of European, Asian and Pan-American markets, Chocko has a comprehensive expertise in forging alliances and joint ventures of superior strategic importance. Being a dynamic leader with great business acumen, Chocko is one of the founding members of the YPO Bangalore chapter.
Chocko Valliappa is the inspirational force behind The Sona Group of companies including, Vee Technologies, HireMee, Vee Protect and Sona Yukti to name a few. Thanks to a wide range of exposure to new technology and software throughout the years, Chocko has accumulated vast experience in developing and exploring technologies. Holding a significant position at The Sona Group, Chocko has played a pivotal role in the group's progress and success throughout the years.
He has held key positions in administration, corporate affairs, international business and operations, planning of corporate policies and strategic planning and marketing. He has led The Sona Group of Companies by facilitating these companies to grow in strength and emerge as the top in their niche. His innovative approach has helped the group grow leaps and bounds, while adding value to clients, stakeholders and everyone involved. Chocko also has a great passion towards empowering the community, particularly towards tackling the unemployment. With a focus on this, he established Sona Yukti Pvt. Ltd., which provides skill-based training with a strong industry focus and HireMee, a digital assessment platform to bridge the gap between industry and academia. Being the Vice Chairman of the Sona College of Technology, he also closely works with The Sona Group of Institutions. With his varied experience in education, technology, industry-focused skill development and a traditional industry background, Chocko brings innovative insights to The Sona Group that helps the group to reach new heights of success on an international scale.